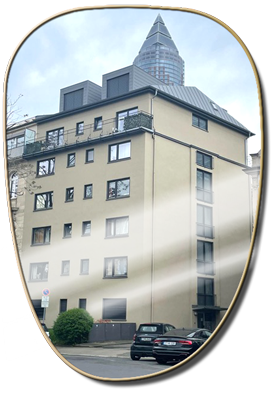 The building is from the fifties and treated like a national monument

Even the elevator is out of this time
– but don`t worry, it works!

The apartment house is located in the center of Frankfurt – Westend. You will find a charming area with old buildings and trees. The Frankfurt fair and the city are close.

Each of the 17 apartments has a different style. Some are furnished with 19th century items, others have design classics from the sixties – like Miller Chairs or Braun Radio, or antiques.

It's a very special house – I made it for individuals ... like you?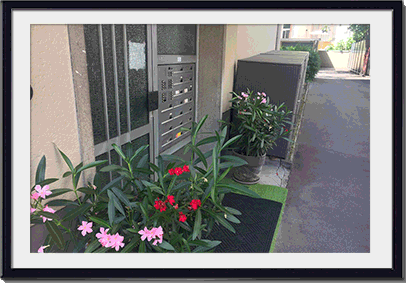 The apartments are fully furnished and equipped – with towels, bedcovering etc. and of course everything a kitchen needs: old porcelain and silver plated cutlery.

The size of the one-room apartments is 33 m2 – some have balconies.
Cold rent 750 €, running costs 350 € = 1100 € warm rent.

The two-room apartments have 53 m2.
Cold rent 1250 €, running costs 350 € = 1600 € warm rent.
As a special living highlight:
The rooftop apartment with wonderful views – to the east of Frankfurt's skyline and to the south-west of the Messeturm – has 80 m2 without slopes and costs 1600 € / month plus 400 € / monthly ancillary costs = 2000 €.

Behind the house are some parking spaces to rent. Rent 70 €.
In the cellar are two washing machines and a dryer.
We are looking forward to a longer stay of at least 3 months.

If you are interested, please get in touch with me.


Kind regards
Lisa Schulze Oechtering
As of Juli 2023